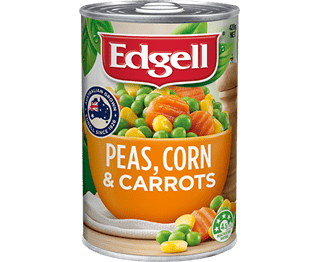 Peas, Corn & Carrots
Enjoy the Aussie Grown goodness of succulent Peas, Corn Kernels and Crinkle Cut Carrots. They're low in fat, a source of fibre and perfect for a nutritious addition to your pasta bakes, stir fries and risotto.
Vegetables (60%) (peas, corn, carrot), water, sugar, salt.
4.5 Health Star Rating
Australian Grown
Source of Fibre
Naturally Low in Fat
Whilst all care has been taken to ensure the information is
correct, please refer to the product label for further information.
Cooking Hints and Tips
Perfect added to a chicken or tuna pasta bake.