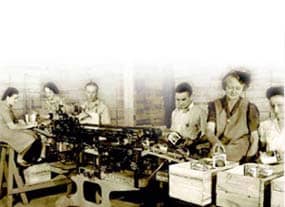 1920's
In the early 20's in NSW, Gordon Edgell planted asparagus in rows rather than the traditional beds and a brand new Australian history began. The roaring twenties saw a need for a year-round product and Maxwell Edgell returned from researching the latest American canning methods to establish Edgell's own cannery at Bathurst in 1926.
This stimulated further diversification into other vegetable crops, turning what began as a few bunches of asparagus into an enterprise worth millions. A new Australian icon was born.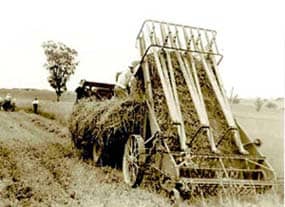 1930's
Never faltering for a moment, even through the depths of the Great Depression, Gordon Edgell & Sons Ltd continued to prosper and expand each year with new products and acquiring additional farming land and plants.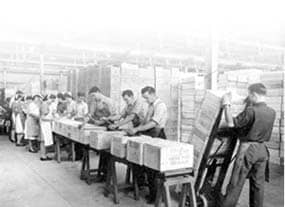 1940's
Through World War II, Edgell was there, an essential industry working day and night to ensure the Forces received the best possible food. Edgell expanded to include a new cannery at Cowra in 1943 and the one millionth can of vegetables rolled off the link just one year later, further cementing Edgell's position as industry leader.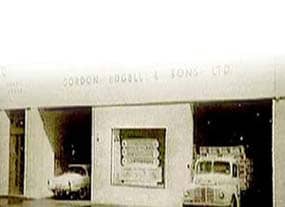 1950's
The 50's saw a remarkable acceleration in technology worldwide. Taking full advantage of the acceptance of canned foods in the post war years, Edgell increased its marketing activities and opened its first Sales Office in Australia House, Carrington Street, Sydney. Like the nation, Edgell rode the wave of affluent entering the deep freezing business with a modern Frozen Food Distribution Centre at Rozelle.
In 1955, two great industry pioneers united under one banner, introducing the 'Birds Eye' brand and the Edgell-Birds Eye Company was born. Through intelligent mergers and acquisitions the small family plot had become a major corporation with key international links, expanding its operations, opening new offices around the country while maintaining its enviable reputation for consistency and quality.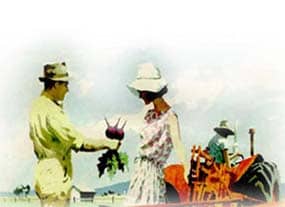 1960's
In the 60's another legend was forged: the Edgell Country Garden theme. Edgell again expanded their sphere of activity, no longer reliant on the vegetable market as it headed into yet another phase in its dynamic history.

It was a decade of unprecedented change for Edgell. New times demanded new methods and a new focus. Edgell continued to expand, diversifying into processing tropical fruits, juices, pineapples, beetroot and sauces.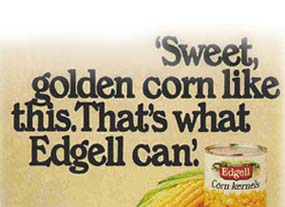 1970's
The 70's brought total transformation. Governments changed, technology accelerated and, as always, Edgell was at the forefront of change.

In 1979, a joint venture with quality seafood manufacturers National Sea Products of Canada, saw Edgell emerge as a leading producer of a diverse range of nutritional foods.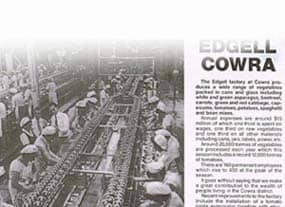 1980's
Consistently demonstrating its commitment and optimism in the lucky century, Edgell began a major irrigation project at Cowra in 1985.

Taking measures to improve peak performance, Edgell's reputation was reinforced by dramatically upgrading the quality of production and product, and further expanding its share of overseas and domestic business.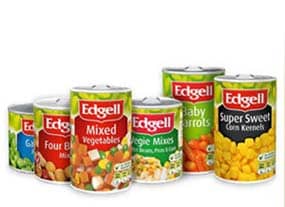 1990's
Edgell went through a major rejuvenation program under the ownership of Pacific Dunlop, setting Edgell on its path of future success under the new ownership of the JR Simplot Company. Using innovation and experience, Australian icon brand Edgell moved into the 21st century dedicated to producing world-class vegetable products.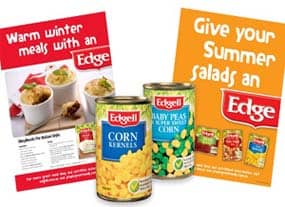 2000's
Edgell continues to lead the way with new products, contemporary new packaging and a focus on healthier eating.

Percentage Daily Intake thumbnails were added to the packs to help consumers understand how Edgell products can contribute to a balanced diet. Edgell inspired people to add variety to their meals with a range of quick, healthy meal ideas.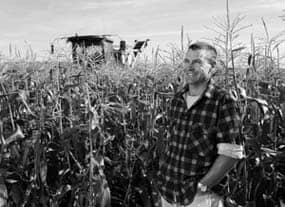 2010's
Vegetables remain at the heart of our business. Today the majority of our products are proudly made in our Bathurst factory by a dedicated team of over 200 people.

Edgell works closely with over 100 Australian farmers, some of whose families have been growing Edgell vegetables for generations.

After more than 80 years, Edgell is still just as committed to providing the best quality products for you to enjoy.